About Us: The Project
On March 19, 2016, during a visit to Sevilla in the midst of Holy Week, my wife Becky and I had the extraordinary opportunity to attend a performance of El Miserere by Hilarión Eslava at the parish church of Santa Ana (known also as "The Cathedral of Triana"), interpreted by the choir and orchestra of the Asociación Coral de Sevilla under the direction of Jesús Becerra. The church had already been packed since well before the performance. Days later, we briefly met with maestro Becerra and with members of the Asociación Coral and we talked about Eslava, his music, and about Sevilla's El Miserere. We are aware that this is a profound tradition in Sevilla and throughout Andalucía, but for Becky and for me, this was our first and personal contact with the music of Eslava. I can only describe those days as a truly intense experience.
My particular interest in Hilarión Eslava is not just related to his music, as beautiful as it is, but has an additional personal dimension to it. Hilarión Eslava is, with almost absolute certainty, my paternal great-great grandfather (the paternal grandfather of my paternal grandfather). In theory, that would therefore make my family name Eslava, and not Rufín.
Hilarión Eslava was consecrated as a priest in the Roman Catholic Church and consequently, should have had no children. But it seems he did; two to be precise; Ramón and Federico Rufín y Valdés. Ramón (my great-grandfather) was born in 1845, when Eslava had just moved to Madrid after having earned his post as Master of the Royal Chapel. Very little is known about Federico; it appears he died in his infancy. The mother was most likely María Dolores Rufín y Lugo, originally from the town of Sanlúcar de Barrameda and a resident of Sevilla. María Dolores was the sister of a pupil and close friend of don Hilarión in Sevilla, Juan Rufín, and sister also of Carlos. Ramón and Federico were christened under the family names of Carlos and his wife, who are listed as natural parents.
As one would expect, there is little definitive proof of any of this, and Eslava's descendants are not mentioned in any of his biographies, but there is ample circumstantial evidence, including their common place of residence in Madrid (calle San Quintín 8), the last will and testament of don Hilarión, which singularly favored Ramón and María Dolores, and a promissory note signed by Hilarión on behalf of Ramón when the latter was studying Law in Madrid. There are also the Eslava personal belongings distributed among Rufín family members, the frequent and sometimes oblique comments among members of our family on the subject, and, most of all, in my opinion, the astonishing physical resemblance of my grandfather to his.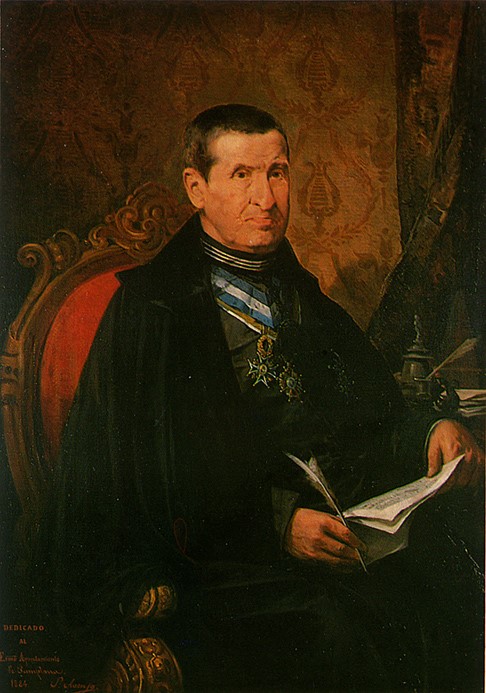 Hilarión Eslava, by Salustiano Asenjo (1834-1897)
Collection of the Ayuntamiento de Pamplona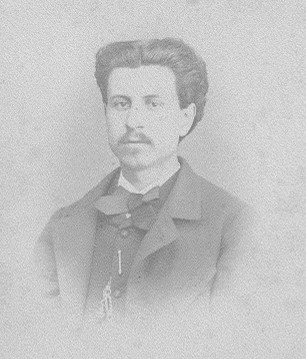 Ramón Rufín y Valdés (1845-1924)
Rufín family archives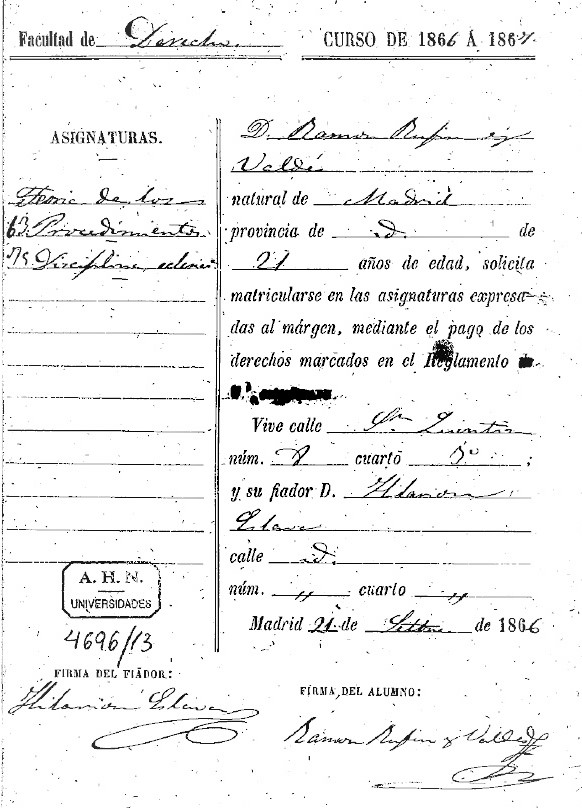 Law School registration form for Ramón Rufín Valdés at the Universidad Central (today Complutense) de Madrid, academic year 1866-67. Hilarión Eslava appears as a financial backer (fiador).
But kinship is not what this is truly about; it is, as it should be, the great works of Eslava, many of them undeservedly forgotten and even lost, and this modest attempt at recovering them to the greatest extent possible. The main objective, therefore, must be to let these web pages become a portal that enables professional and amateur musicians to get to know and disseminate the legacy of Hilarión Eslava, especially his music, using re-edited, updated scores and digital audio files intended to give the listener and approximate idea of the music itself.
In this task of restoration of Eslava's music, the credit belongs in its entirety to my wife Becky. She has brought to this project not only her talent as a musician and composer, but also a sincere and special affection for the music of don Hilarión. All of the reconstructions included here are her work, prepared with great care and attention to detail and respect for the original music. The majority of the original scores she has worked from consist of digital images or generally low-quality copies of printed scores from Eslava's time, which often contained errors, as well as a few handwritten manuscripts by the composer. This work is still far from complete; at this time, we have in our possession less than one third of the more than 100 compositions attributed to Eslava. Of these, about a dozen or so have already been edited. Suggestions and new contributions of scores will be, naturally, always welcome.
I would like to also recognize in these notes my brother Carlos, a major instigator of, and collaborator on this endeavor. It is to him that I owe my special interest in maestro Eslava, and the many years of deep research into the person and the music of our ancestor, which has been a great source of information on the project.
Finally, those of us participating in this little adventure would like to dedicate it to our dear and missed brother Félix († 2017), who, without a doubt, would have encouraged us and, with his extraordinary talent as a graphic designer would have made this project even better.
Antonio Rufín Aguilar
Seattle, April 2019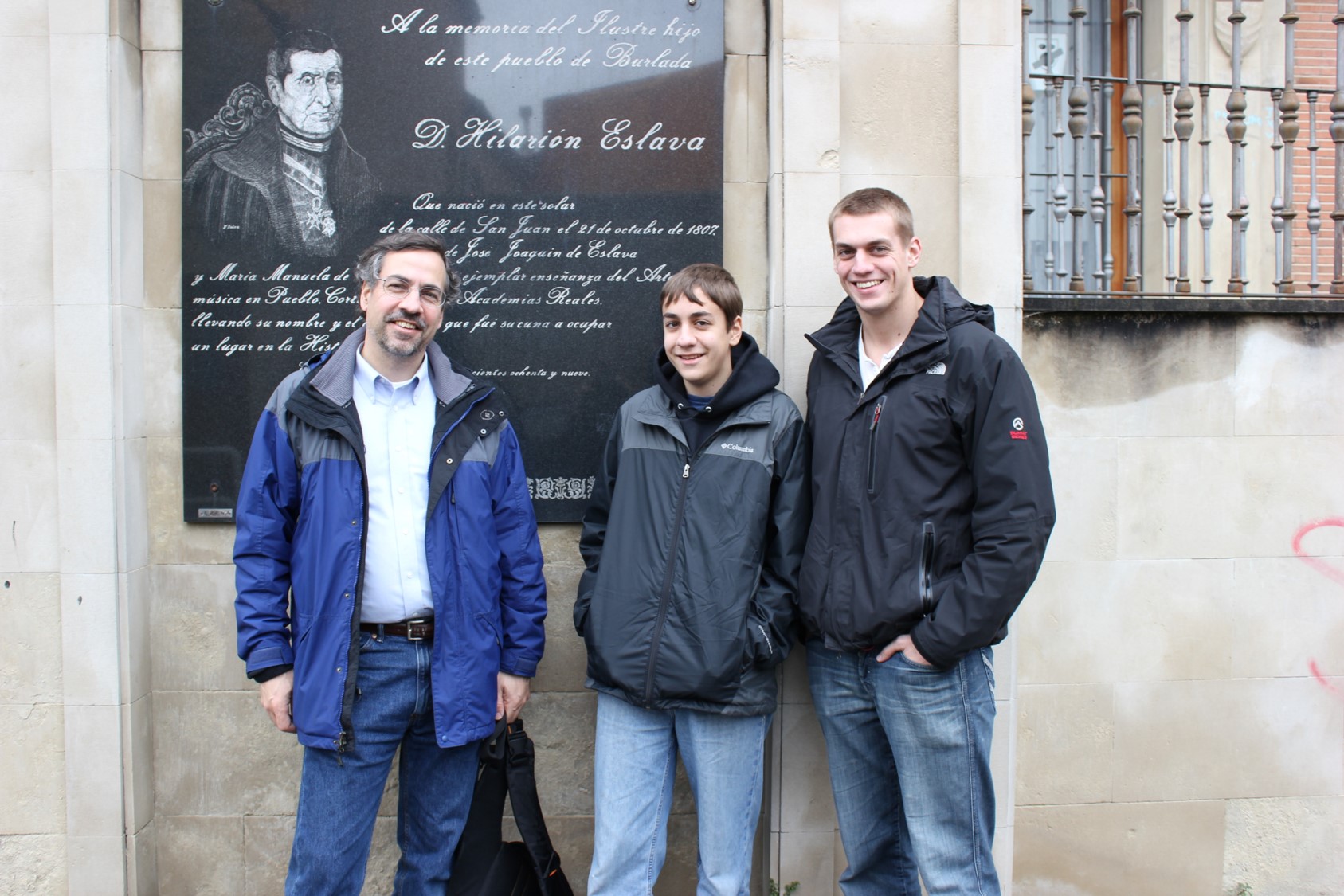 Antonio Rufín and two of his sons during a visit to Burlada in 2013
Copyright 2019-2020, Antonio C. Rufin. All rights reserved